Vermont Newsguy
by Jon Margolis
Is Anyone Listening to Vermont Radio?
May 2, 2014
What a high tech, wired (yet wireless) world. With its Hulus and YouTubes and streamings and Skypes and so many other ways to be informed and entertained.
So what do most people do every day to find out what's going on and to listen to music"
They turn on the radio.
Yup, good old-fashioned, tune-the-dial AM and FM radio. In sheer numbers, nothing else touches its reach, neither in Vermont nor in the other 49 states.
According to the Neilson company, which measures radio and television audiences, 242 million people over the age of 12 listen to the radio at least once a week.
That's 91.7 percent of everybody, and in this case everybody really means everybody. There are a few demographic differences. More older men than women listen, more younger women than men. But the differences are small. Old or young, black or white, Hispanic or Anglo, rich or poor, roughly 90 percent of every subgroup listens to the radio.
Vermont is just a bit of an outlier here. A spokesperson for Nielson said only (if "only" is the right word) 86.6 percent of Vermonters are regular radio listeners.
Maybe that's because so much radio listening is done while driving to work " 7 AM is the peak listening hour all over the country " and while Vermonters drive to work, their commutes are shorter. Fewer traffic jams.
Even if its audience is a few percentage points short of the national average, Vermont's radio business is 'strong." said Jim Condon, the Executive Director of the Vermont Association of Broadcasters (and also a Democratic member of the House of Representative from Colchester). "Listenership is up."
So it is, but largely because there are more people listening. Ratings " the percentage of people who are listening " are down. They aren't down much, but there are signs that all those new technologies pose a challenge to radio in the future.
Asked if her students listen to the radio, Traci Griffith, the Chair of the Communications Department at St. Michael's College, said, "Not tune-the-dial radio."
Today's students, she said, "want to listen to what they want when they want to listen to it." So they are less likely to switch on the radio than stream music from a service such as Pandora, which claims it can algorithmically choose music to each person's taste. Just give Pandora one song you like and it will "find songs with interesting musical similarities to your choice." it says.
Radio is communal, not individualistic.
Attracting a (slightly) smaller percentage of listeners than most of the rest of the country is not the only way the Vermont radio scene differs from the national norm. The Vermont station with the biggest audience does not play country music or shout outlandish political opinion. The station with the biggest audience, according to the Nielsen Audio National Regional Database (as of last September), is WVPS-FM, the Burlington area's public radio outlet, which has an AQH (average number of persons per quarter hour) of 10.5 percent and a weekly "Cume" (the number of different persons who listen for at least five minutes) of 90,600, well ahead of its runner-up.
In some ways,
Vermont Public Radio
dominates the radio scene in the state. Robin Turnau, its president and CEO, said it is "one of the most listened to (public radio) systems, per capita, in the country and also very well supported."
Nothing else has its statewide reach. The seven regular VPR stations and six VPR classical stations don't quite blanket the whole state. But they come far closer than any other system.
And in more ways than one, Vermont is a public radio kind of state. One of those ways, Turnau acknowledged, is that Vermont is an old state.
"Public radio's core demographic tends to be 45 plus." said Turnau. "That's who were trying to serve."
Vermonters are also relatively well-educated, and well-educated people tend to want to know what is going on around them. Many tune (or stream) to VPR because it provides one kind of programming found almost nowhere else on Vermont radio: state and local news.
VPR employs 11 part-time and full-time reporters working under an experienced news director. Vermont's other stations employ somewhere between none and very, very, few, not counting the college and university stations, which mostly cover news on their own campuses.
Several small-town stations devote effort and air time to public affairs " interviewing office-holders, candidates, and community leaders, broadcasting some select board or school board meetings live. And most stations provide a brief national newscast from New York or Washington several times a day.
But putting a lively school board or select board meeting on the air is not the same as hiring a reporter to cover it.
One station " WDEV in Waterbury (on both the AM and FM dials) " probably devotes more time state and local public affairs than VPR. Mark Johnson's call-in interview program has become indispensible to the state's public conversation. The station regularly breaks into regular programming for local bulletins, and even most of its opinion-spouters (Bernie Sanders on the left, the Ethan Allen Institute on the right) are local.
While there is plenty of country music played on Vermont radio stations " the second biggest audience belongs to WOKO-FM with a 7.0 AQH and 62,100 "cume" " compared to the rest of the country there is relatively little outlandish political opinion. A listener can find Rush Limbaugh on the radio in Vermont, but not easily and not everywhere. His web site lists just two Vermont outlets: WVMT-AM in Burlington, the 17th most-listened to station with a 1.7 AQH; and WSNO-AM in Barre, with a smaller audience.
Radio in Vermont is also more likely to be"well, radio in and from Vermont as opposed to syndicated programming piped out of a studio in a far-off high-rise and beamed everywhere at once.
There are commercial radio chains in the state. But at even the biggest of them " Radio Broadcasting Services of South Burlington, which owns seven stations " most of the broadcasting originates in the state. The stations in Burlington, Middlebury, Addison and St. Albans play "oldies" songs, and "when the DJ is talking and the music is playing it's all the same." said company vice president Ed Flanagan. But that DJ is in a Vermont studio.
In Condon's view, Vermont radio is successful largely to the extent that it is local.
"People want to communicate." he said. They want a station that will tell them if a local road is closed and to which they can report a lost cat.
But Traci Griffith points out that even in Vermont, truly local radio may be becoming "a thing of the past."
The numbers seem to bear her out. The Vermont Association of Broadcasters web site lists 88 Vermont radio stations. Subtract VPR's 13, nine college stations and eight religious stations. That leaves 58 commercial stations. Fifty are owned by corporations, 12 by out-of-state corporations.
Corporate, to be sure, is a synonym for neither undesirable nor mediocre. But it often engenders standardization, and Vermont radio is increasingly less idiosyncratic, barely distinguishable from all the stations all over the country that use format and formula to attract audiences and hold down expenses.

Public radio and talk radio make news.
Music is what makes money, so music dominates commercial radio, with each station choosing a format: country; adult contemporary (sometimes called "middle of the road"); Oldies (songs from the 1950s and 1960s, Condon said); Classic Hits (1970s and 10980s) and more. As in the rest of the country, far as Vermont may be from Nashville (geographically and otherwise), country music is the most listened-to format. Its AQH share is 25.4 percent, followed by 18 percent for News/Talk and 10.9 for adult contemporary.
In Vermont, most of the songs are selected by disk jockeys in Vermont (or Plattsburgh, NY or Lebanon, NH). But the tone, the patter, and the music in Burlington is all but indistinguishable from what one would hear in Birmingham, Bowling Green, or Bozeman. Like suburban subdivisions and shopping malls, radio has become less quirky, more homogenized, even in Vermont.
Here and there, on some stations " or at least on some programs on some stations " quirkiness survives. It actually thrives at WDEV, where the format is to have no format. The station broadcasts Red Sox games and classical music, arts calendars and NASCAR races, jazz and news commentary, and a Saturday morning show called "music to go to the dump by."
Good radio shouldn't take itself too seriously.
"It's a patchwork." said station President Ken Squier. "We keep being local and relevant."
Squier said he is not concerned about those young people streaming via Pandora rather than turning on the radio.
"All young people have always seen their music as a form of independence, a way of staking our claim. We don't do music for children."
Maybe those "children" will grow up to listen to stations like WDEV. Or maybe someone will figure out how radio stations can charge fees for streaming the music listeners want to hear when they want to hear it, or how to hook up those streaming services with advertising. Radio has been declared dead before. Television was supposed to kill it, but it adapted and thrived.
It might adapt to the Internet, too. Either way, there's still plenty to listen to in Vermont, plenty of the standard formula stuff, or " if you keep touching that dial " a little bit of the old quirkiness.
"That doesn't work here." said Condon. "They"re no longer in Vermont."
Not that consolidation and syndication have bypassed the state entirely. Some years ago, the media giant Clear Channel bought some Vermont stations, which broadcast music "delivered from their headquarters in Dallas." remembered Condon.
---
Vermont: 1964 - Today
January 10, 2014
Vermont Newsguy Jon Margolis is the author of the book "The Last Innocent Year: America in 1964" " the subject of the next installment of "The American Experience" on PBS January 14th. In his new installment of The Vermont Newsguy for VPT, Margolis examines what Vermont looked like in 1964 and how it has changed in the last 50 years.
That New Years Day, a traveler could drive into Vermont from the south on Interstate 91, crossing the border from Massachusetts right about at the Guilford-Vernon line, and then zooming as far north as"well, about as far north as Bellows Falls.
From there northward, it was Route 5, inching through all the towns and villages along the way.
There was a little more of Interstate 89. Motorists could drive between Montpelier and Bolton, and also between Richmond and Winooski. But not straight through.
A few days after the year began, the Legislature convened in Montpelier. The 30 senators gathered in their chamber. The 246 House members met in theirs.
Yes, 246 House members. The year that had just begun was 1964, and Vermonters still elected one House member from each town, regardless of size. The 35,000 residents of Burlington elected one House member. So did the 113 of Stannard. House members representing 12 percent of the people comprised a majority.
Not for long. The year that began half a century ago was the one in which Vermont entered the modern world.
Or perhaps was pulled into it, not quite kicking and screaming, with as much reluctance as enthusiasm. As it was in the rest of the country, 1964 was a year of profound change in Vermont, a kind of dividing line between eras. Vermont's old era " when it was dominated by small towns, dairy farmers, the Republican Party, and antagonism toward the federal government " was fading. Something else was beginning.
The new beginning, needless to say, had earlier beginnings. There is something a touch arbitrary about assigning unique significance to any one year. The Interstate highway system that would transform the state began in the late 1950s. For a few years after 1964, the state would still have a poll tax, and University of Vermont students and visitors would still enjoy (and defend) the blatantly racist "kake walk. "The Legislature would not abandon its "one town-one vote" system until 1965. And Democrat Phil Hoff had eked out a victory in 1962, becoming Vermont's first Democratic governor in more than a century.
Still, it was in 1964 that the U.S. Supreme Court ruled that "Legislators represent people, not trees or acres." meaning in all states lawmakers would have to represent voters, not towns. It was in 1964 that the NAACP first formally criticized UVM for the Kake walk. And it was in 1964 that Vermont first voted Democratic down the line. Not only was Hoff re-elected, but so were all the other Democratic statewide candidates, and Lyndon Johnson trounced Republican Barry Goldwater, becoming the first Democrat to carry the state since before the Civil War.
"That second term for Hoff signaled that (his victory in) 1962 wasn't a fluke." said Mark Hudson, the Executive Director of the Vermont historical Society.
And throughout the year, the bulldozers kept churning and the concrete kept being poured. By the end of the year, more than 13 more miles of I-89 had been open to traffic.
"The Interstates were it." when assessing the single biggest factor that "pushed Vermont into the modern age." said Chris Graff, the veteran Vermont journalist who is now vice president for communications at National Life Group.
Graff said the expansion of the IBM plant in Essex, new and bigger ski resorts, and second home development. "Just would not have happened if it wasn't easy to get to Vermont."
And that growth, he said, with its occasional excesses, brought about the reaction that led to the Land Use and Development Act (Act 250) and other environmental laws which are now central to government and society in the state, and such an important part of its nationwide image.
In 1964, Vermont's population had been growing for more than a decade. But in many ways the state remained "a very isolated rural backwater, with an old economy based on dairy farming, lumbering, quarrying and small manufacturing." said Paul Searls, an assistant professor of history at Lyndon State College.
But it was not only the state's economy that was archaic, Searls said. So was its governmental structure, in which power was centered in 'tiny fiefdoms of local control."
If the Interstates brought the state into the 20th Century economically, that U.S. Supreme Court decision of 1964 (Reynolds v. Sims) and the federal court orders that followed did the job governmentally. The following year, amidst great controversy and no little anguish, the legislature recreated itself, reducing the House of Representatives to 150 members, apportioned by population, not town lines.
Not all Vermonters were happy about the changes. Romaine Tenney did not like the new Vermont the Interstates would bring, and would not leave the land his family had farmed since 1892, though it was in the pathway of I-91. When the sheriff's deputies came to evict him, he set fire to his farmhouse and died with it.
Percy Mendell did not like the federal government ordering Vermont to change the way it chose its House of Representatives.
"It's how we elect our Legislature. And it's worked just fine." he said. "What right do the folks in Washington have to come in and tell us to fix what ain't broke" It just flies in the face of logic " and it destroys local control."
Percy Mendell is fiction, a character in "Into the Wilderness." a novel by Deborah Lee Luskin of Newfane. Luskin never got to Vermont until 1965, and she was then only nine years old. But she set her novel in the fictional town of Orton, Vermont, 1964, and said she did extensive research into what life was like in rural Vermont then, reading old newspapers and talking to people who remembered those days.
And there's little doubt that the outlook she has Mendell express was widely held in rural Vermont at the time. Nor was it just a matter of governmental philosophy. It was also a matter of power and money. Under the old system, lawmakers used their power to funnel state money into the small towns. It was 'small-town pork-barrel legislation." in the words of Anthony Marro and Stephen C. Terry in their book, "Philip Hoff: How Red turned Blue in the Green Mountain State.
Fictional though he was, Mendell was at least partly right. If switching to one person-one vote did not "destroy" local control, it greatly diminished it. The state now handles many of the functions then under the control of the towns. In 1964 each town had an "overseer of the poor." It was they who dealt with income support for the disabled and indigent. There was no state welfare system. Nor were there state environmental laws, though Hoff tried to get the Legislature to pass a bill regulating land use. Hoff called that his "most tragic loss" of the year.
Change is never easy, its benefits are not without some cost, and the benefits are not evenly distributed. In general Vermont is far more prosperous than it was in 1964, but to some extent the prosperity has followed the paths of the Interstates. The economic troubles of Rutland and Bennington, Chris Graff notes, can be at least partly explained by how far they are from the highways.
A more centralized government inevitably brings with it more bureaucracy, more control from farther away, and even if "farther away" in this case is only as far as Montpelier, dealing with a state office is more impersonal than dealing with the town clerk, who is also a neighbor. The consolidated "union" high school, not in the center of the village but out on the highway, may have more up-do-date facilities than its smaller predecessor, but perhaps gives some parents the 'sense they are losing control over their own children." Paul Searls notes.
As it is elsewhere, life in Vermont is more standardized, more homogenized than it was 50 years ago. Television, chain stores and restaurants, suburban subdivisions that seem all to have been designed by the same (not very good") architect almost seem to have conspired to blot out distinctions.
Vermont still seems to want to retain its distinctions, and despite all the changes, the 2014 debates about how to do so sound not so different from the discussions of 1964: how much should state government do and how much left to "local control"" Should schools or school districts consolidate" Should economic growth be guided or limited, or just left to the dynamics of the market"
Such discussions are not unique to Vermont, but seem to have more salience here simply because most Vermonters do want to retain the small towns, the pastoral landscape and the more personal ambiance of the state's past. The irony, as historian Searls sees it, is that "in order for Vermonters to take control of their own destiny they have to shape it rather than have outside forces shape it."
In other words, a certain amount of very modern government planning " the kind Phil Hoff envisioned but could not accomplish in 1964 " may be needed to preserve what people want preserve of the past. Left untouched, the dynamics of the market will suburbanize and standardize everything in their path. Among the legacies of 1964, it seems, is what to argue about and how to argue it.
---
Is Vermont High School Football an Endangered Species?
October 18, 2013
It's mid-Autumn. Most of the leaves have fallen, a chill is in the air, and many a Vermonter " even some who don't have children, neighbors, or friends out on the field " enjoy going to a high school football game. They go to cheer on their home-town kids " the Champlain Valley Union Redhawks in Hinesburg, the Tigers down at Middlebury High, Colchester High School's Lakers or the aptly named Solons in Montpelier.
Whoops!
Check that last one. Montpelier High fields soccer teams " boys and girls, varsity and junior varsity. But the Solons don't play football any more.
"It was just a lack of numbers and a lack of interest," said Montpelier High School principal Adam Bunting. If the school had fielded a team this year, he said, it would be so small that boys might feel "pressure to play injured" to avoid having the team forfeit a game, as it had to do last year.
Montpelier is not unique. According to figures supplied by the Vermont Principals Association, 33 Vermont high schools fielded football teams in 2006, with 1,945 boys participating. In 2012, 26 schools had teams with a total of 1,159 players.
For two reasons, those figures could overstate the falloff in football participation. First, they may not be complete; schools are not required to report their programs, and one or two small schools may not have informed the Principals Association. Second, football is hardly the only school activity in which fewer students take part. In fact, there are simply fewer students in Vermont than there were several years ago.
But the student population of Vermont high schools fell about 13 percent from 2006, while the number of football players went down by almost a third.
"You are beginning to see fewer and fewer students involved," said Bob Johnson, the associate executive director of the Vermont Principals Association.
High school football in Vermont is not about to disappear. Several programs are thriving. Lots of teenage boys love playing football. Realistically or not, some see the game as their ticket to a college education (perhaps a free one) and maybe even a career in the National Football League.
Besides, as in the rest of the country, the passion, the pace, sometimes seemingly the purpose of life in many a high school centers around football in the autumn. It isn't just the players. It's the cheerleaders, the band, the pep rallies, the booster clubs. For several weeks the game dominates school life, and most students seem to like it that way.
But high school football in Vermont is diminished from what it was, and is likely to be more diminished in the near future. School athletic officials say they would not be at all surprised if more schools drop the sport.
Some smaller and medium-size schools that are near each other might join forces, with just one school fielding a team, but with boys from nearby schools eligible to play on it. Montpelier tried to work out such an arrangement with Williamstown and Northfield High Schools, neither of which has a football team, but it did not work out.
One reason schools might drop football, Johnson said, is that there are now so many more sports alternative for high school students. Some schools have volleyball and bowling teams. Others are considering rugby and ultimate Frisbee.
Besides, considering the need for protective equipment and uniforms, and for several coaches (offense, defense, line, backfield, and maybe special teams), football is expensive.
And about to get more expensive for Vermont high schools thanks to what is almost certainly (though not provably) the other reason fewer boys are playing the sport: the danger of serious brain injury.
"No parent has come to me specifically and said, "my son is not going to play football because I'm worried about concussion,'" said Trevor Squirrell.
But the very fact that Squirrell is involved in this conversation at all proves that the brain injury threat is having an impact on high school football participation. It also shows that Vermont's athletic, educational, and political establishment is not trying to deny that playing football can lead to serious and disabling head injuries.
Squirrell is not a coach (though he has coached), a teacher, or an education official. He is the executive director of the Brain Injury Association of Vermont, and his association is involved in high school football because both the educators and the Legislature have established a procedure designed to protect student-athletes.
And also, perhaps, to preserve high school football.
And even though there is no conclusive evidence that boys " or their parents " are deciding not to play football out of fear of brain injury, Squirrell does not doubt that such decisions are being made.
"Certainly there seems to be evidence out there that this is happening," he said.
It could hardly be otherwise. The suicides of former NFL players Junior Seau, Dave Duerson, and " most recently " Paul Oliver received extensive news coverage. Autopsies revealed that Seau and Duerson had chronic traumatic encephalopathy, a brain disease that can be caused by repeated blows to the head. Duerson's story is part of a new movie called "The United States of Football," which also cites experts questioning the safety of football at all levels, starting with Pop Warner League "pee-wee" football.
There are no reports of serious brain disease that might have been caused by high school football in Vermont. In fact, there are no reports of any Vermont football player receiving a serious head injury in recent years.
But there have been such incident in other states, and Vermont followed the lead of some of those states by passing Act 68 earlier this year. The law requires schools to adopt an "action plan" for dealing with head injuries in "collision sports" such as football, and establishes a "concussion management plan" which includes a flow chart for what coaches are to do when a player shows any sign of concussion.
"Concussions are going to happen," said Squirrell, in football and in other sports. But if they are properly dealt with, if players are not allowed to return to play " or even to "return to learn" in the classroom " before they are ready, concussions are less likely to lead to brain injury.
The new law also orders coaches to undergo "training in recognizing the symptoms of concussion and how to reduce the risks of concussion," and requires a trained "licensed health care professional" at every interscholastic football game.
Almost all schools already have such a professional on hand, but some of them are emergency medical technicians. By 2015, that level of license will no longer suffice. Some schools will have to find " and pay for " health professionals with more training. Along with other costs of fielding a football team, this could price some schools out of the game.
"Football can be a very safe sport," said Bob Johnson, predicting that it is "still going to be here at some level" for years to come.
But he acknowledged that it might be a slightly different game (getting rid of kickoffs has been discussed at all levels of the sport), and possibly played by fewer players at fewer schools. Though kids can get hurt in all sports (and that includes cheer-leading), the evidence suggests that the risk of serious injury is greater in football.
If more schools drop the sport, it would be more than just a change in athletic schedules. It would be a change in the culture of high school, one that some principals and teachers would welcome, though many in school and in town would regret. Somehow it's hard to imagine a pep rally for the ultimate Frisbee team.
###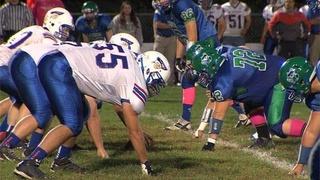 See also: Watch VPT's special,
Damage Control
. A panel of experts and young athletes discuss the issue of concussions in sports, and the response of Vermont schools and officials. Live call-in. Panelists include Alan Maynard, President of the Vermont Association of Athletic Trainers and Dr. Kalev Freeman, Director, Emergency Medicine Research, Fletcher Allen.
---
«older
newer»